Biofreeze Pain Relief Gel Tube (118ml) Cold Gel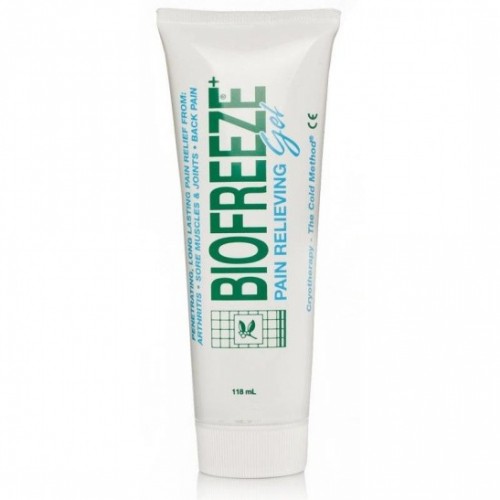 Biofreeze Pain Relieving Gel tube is well-suited for hands-on massage applications (particularly larger muscles and joints).

There is no limit to what you can do when you cool your aches and pains. For over 25 years, Biofreeze has been the secret weapon of clinical professionals and athletes providing cold therapy pain relief for sore muscles, backaches, sore joints and arthritis. Overcome pain and get back to your best fast with the #1 clinically recommended topical pain relief brand.
#1 Clinically Recommended: Trusted by pharmacists, physical therapists, chiropractors, massage therapists, podiatrists, and athletic trainers
Unique cooling menthol formula is backed by science and research-proven to deliver fast-acting, long-lasting and deep, penetrating pain relief for sore muscles, backaches, sore joints, and arthritis
Trusted by some of the world's best athletes and athletic trainers
118ml gel tube is one of the most popular formats, well-suited for application on small and large muscle areas
Biofreeze gel applies easily and penetrates quickly for fast pain relief to body parts such as the back, neck, shoulder, knee, hand, wrist, elbow, foot, and ankle; product is not tested on animals, made with USP grade ingredients, and free of NSAIDs, parabens, and propylene glycol
Contains soothing natural menthol and ILEX.
Features:
Applies easier and penetrates quickly
Enhanced and more natural formula
Colorless (dye-free) options
Proprietary herbal blend
Effective skin conditioners
Greaseless and non-staining with vanishing scent
Manufactured in the USA
Not tested on animals
Specifications
Material
Plastic (Container)
Product Dimensions (cm)
12 x 4 x 4
Product Weight (kg)
0.114
Shipping Details
Delivery Time
5 - 10 Working Days
Shipping Dimension (cm)
12 x 4 x 4
Shipping Weight (kg)
0.114