Meden Eleveo Dynamic Body Weight Support System and Unweighing for Gait Training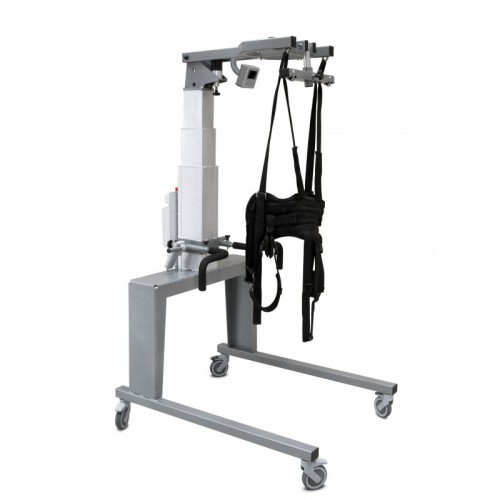 Eleveo is a training device for simultaneous control of unloading, posture and balance on a treadmill or from surfaces. Systems providing dynamic unloading are a perfect solution for training patients in a wide range of gait disorders. Eleveo helps to maintain proper posture, reduces load, eliminates balance problems and improves motor coordination training.
Unique harnesses are designed for uni- or bilateral support of the body as well as for a gradual level change from fully loaded to fully unloaded. The device allows for a manual controlled treatment of lower limbs and pelvis to ensure proper movement. Configurability of the device allows the clinics to treat various patients with a single Eleveo system. Extra options help to adjust the system to specific needs of each patient.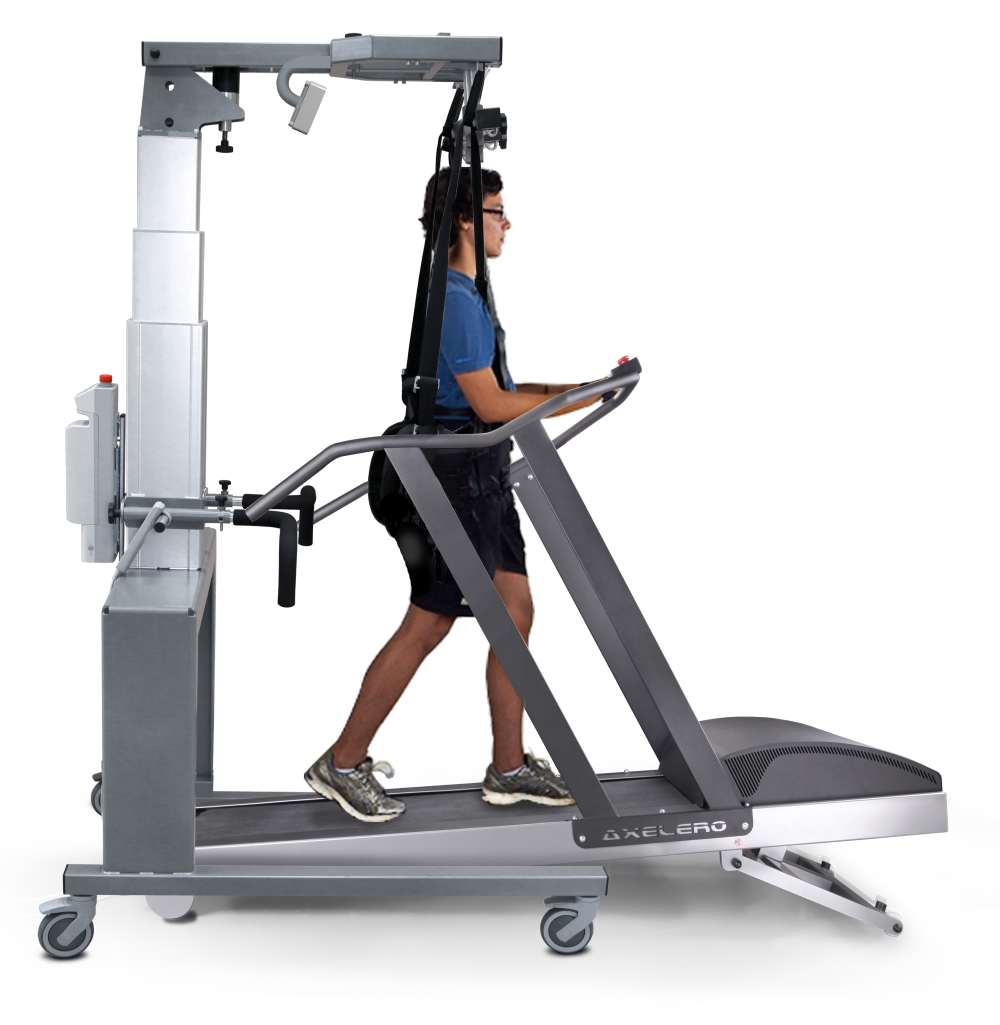 Eleveo can run on-ground or on-treadmill for stationary gait training or cardiac stress test
360° swivel rotates patient while still in the harness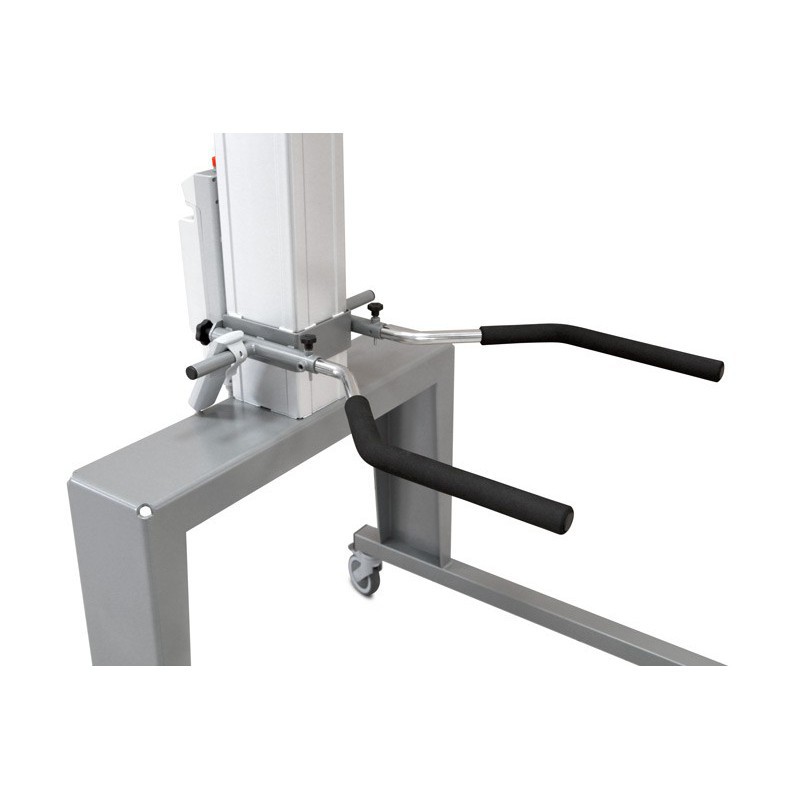 Swappable sets of handlebars for control during gait training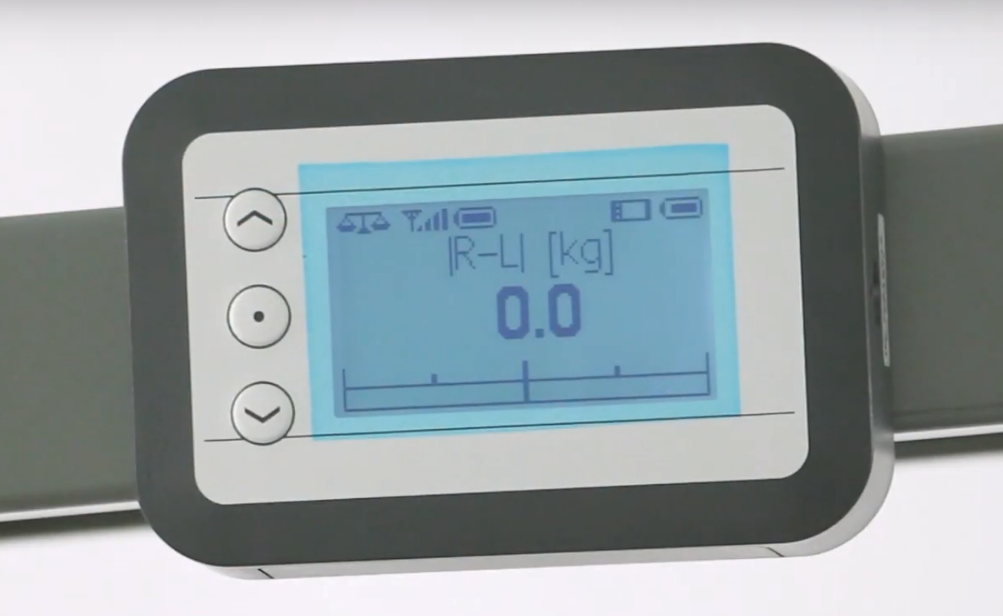 Weight sensors can measure left and right independently and display wirelessly on a detachable LCD panel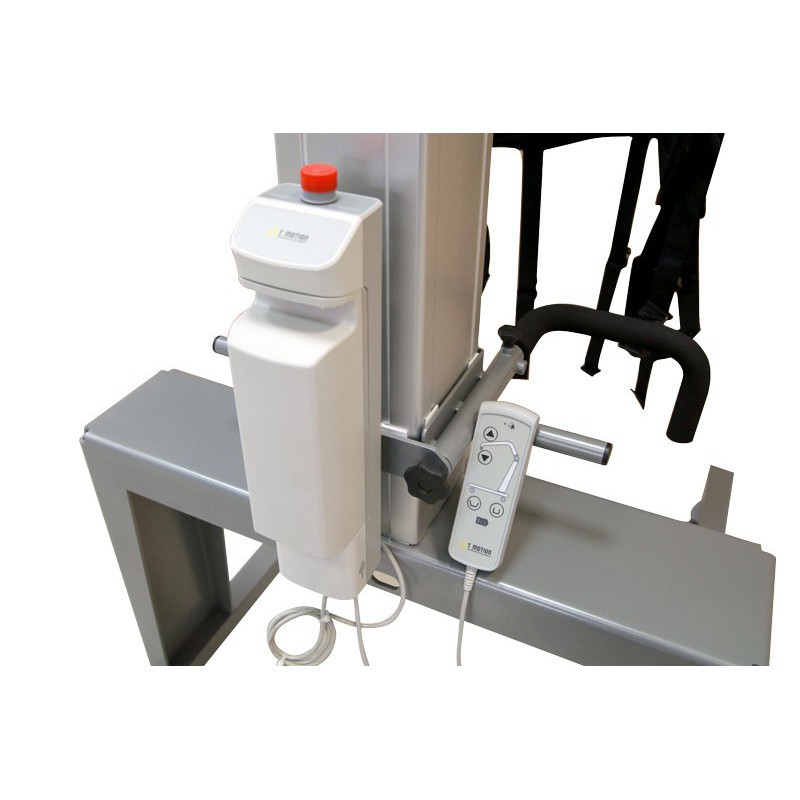 Rechargeable battery and remote control for mobility
Swivel sling (for sideways gait)
Distinguishing features:
Battery-powered electric height adjustment (charged from a 230V wall outlet),

Two-point suspension with pelvis positioning and front-back inclination using 4 belts,

Electronic measurement unit for monitoring lateral and overall unloading level and visual feedback for the patient,

Four-wheel system with two wheels with full and two with directional brake (the wheels with directional brake allow for pre-setting the direction of movement prior to the treatment)

The system can lower to 164 cm for an easy access to rooms with low doors (180 cm) or treatment of shorter patients,

88 cm wide frame allows an easy passage through most doors,

Maximum height of 234 cm,

Patient height of up to 210 cm,

Patient weight of up to 160 kg,

Front, back and sideways gait training,

Gait direction change possible without disconnecting the harness,

Variable angle adjustable handlebars,

Dynamic unloading system which allows for shifting the centre of gravity by at least 5 cm for a more physiological movement of the body during the training,

Including one universal suspension harness.
Technical data:
Width [cm]: 88

Height [cm]: max. 240

Depth [cm]: 125

Weight [kg]: 120

Max load [kg]: 135
Specifications
Product Dimensions (cm)
210 x 88 x 164
Product Weight (kg)
120
Shipping Details
Availabillity
In Stock
Delivery Time
10 - 15 Working Days
Shipping Dimension (cm)
215 x 45 x 84
Shipping Weight (kg)
125