Nimbo Posterior Walker Accessory - Pelvic Stability Attachment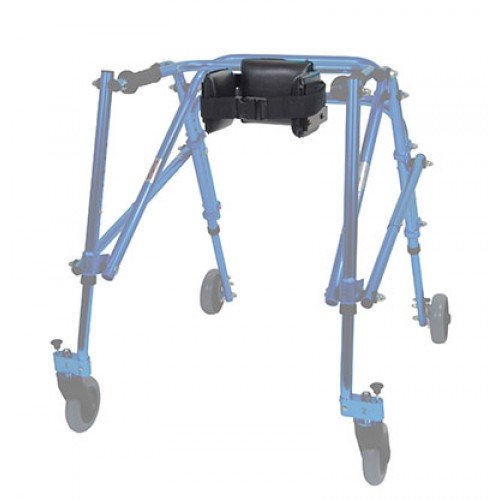 Nimbo Posterior Walker, Accessory, Pelvic Stability Attachment:
The Pelvic Stability attachment is an accessory to the Nimbo posterior walker. It features back pads, lateral pads and a support belt to help stabilize the pelvic region. The pelvic stabilizer is adjustable and is recommended for users who have an asymmetrical posture when standing or walking.
Adult size height adjustable Nimbo posterior walker can also be used in anterior position.
Aluminum Frame.
Soft rubber wheels adhere to any surface and will not allow the Nimbo to slide backwards.
One directional rear 5" wheels with aluminum ratchet and pin mechanism.
Anti-Reverse override bracket disengages the one directional rear wheels and allows forward & reverse mobility.
Front swivel 4.
5" wheels enhance maneuverability and ease of turning.
Locking mechanism easily switches front wheels from swivel to non-swivel.
Each wheel is independently adjusted.
275 pound weight capacity.
Accessory, pelvic stability attachment.
Specifications
Material
Aluminum Frame
Product Dimensions (cm)
23.4 x 13.9 x 18.4
Product Weight (kg)
1.8
Shipping Details
Availabillity
In Stock
Delivery Time
9 - 15 Working Days