Physiomed Physioson Basic Ultrasound Therapy Device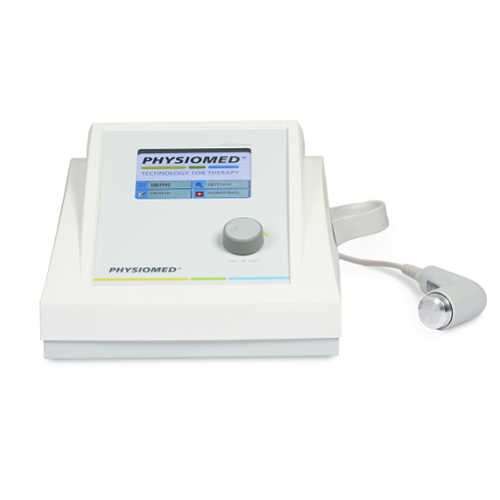 Professional ultrasound therapy for clinics and rehabilitation centers
PHYSIOMED ultrasound therapy units enable you to start therapy with maximum speed and ease: direct selection, over the indication index or program memory. During treatment you have an overview of all parameters. With decades of proven use, PHYSIOMED one-button operation permits fast intuitive control.
Exhaustive indication lists and patient database additionally simplify ultrasound therapy. Choose between ergonomically designed transducers with surface areas of 1 / 3 / 5 / 8 cm2, which are also suitable for subaqueous treatment. Along with continuous or pulsed energy output (duty cycles [10…100 %]), optical and acoustic coupling controls ensure efficient therapy.
General Features:
Intuitive PHYSIOMED one-button operation
Colour display with Touchscreen
Comprehensive overview of the therapy parameters
Fastest therapy start: direct, through program memory or indications index
Extensive treatment index with dosage proposals
Patient database
Ultrasound Features:
1 and 3 MHz ultrasound
Selection of ergonomic ultrasound transducers in different sizes (1, 3, 5, 8 cm²)
Continuous or pulsed energy output (duty cycles 10 - 100 %)
Subaqueous treatment
Ultrasound Therapy Information:
Ultrasound therapy, along with stimulation current, is one of the popular treatment forms of physical therapy. Therapeutic ultrasound will be used, with the frequency 1 MHz or 3 MHz, as continuous echo or pulse echo. Due to its complex effects ultrasound therapy is classified as mechanical thermal therapy.
Depending on therapy parameters (therapy frequency, echo type, dose, therapy duration and mode) a thermal effect comes from ultrasound therapy (thermal growth and reflecting from barriers to the tissue, for example, bones or joints) or a micro massage in the treated tissue segments is in the foreground.
The effects of the ultrasound therapy can be summarized as the following:
Hyperemisation
Acceleration of metabolic function (micro-circulation, diffusion processes)
Increasing the tensability of connective tissue structure (collagen fibres)
Alleviation of pain
Muscular deionizing and spasm resolution
Acceleration of the healing process
Stimulation of fracture healing
Ultrasound will be reflected by air so, for the optimum conduction of the ultrasonic waves from the transducer to the tissue, you should use a coupling agent (ultrasound gel) or connect under water (sub-aqua).
Indications for Ultrasound Therapy:
Ultrasound therapy is beneficial within a broad range of applications, including, but not limited to:
Achillodynia
Acromioclavicular dislocation
Disc herniation with radiculopathy
Epicondylopathy
Fibromyalgia
Fracture
Insertion tendopathy
Muscle fiber rupture
Neuralgia
Patellar tendinopathy
Periostitis
Spondylitis ankylosans
Tendopathy
Ulcus cruris