V2U TENS D1 7000 Transcutaneous Electrical Nerve Stimulation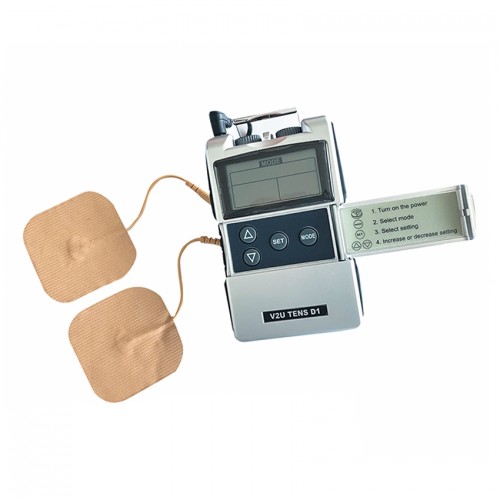 TENS is a non-invasive, drug-free method of controlling pain. It sends tiny electrical impulses through the skin to the nerves in order to modify the pain perception.
Specifications / Features:
Portable, handheld lightweight unit, battery operated
Dual Channel isolated between channels
Pulse Amplitude: adjustable, 0-100mA at 500ohm load each channel.
Waveform: asymmetric bi-phasic square pulse
Voltage 0-50 volt (load: 500 ohm)
Power source: 9 volt battery x1
Size: 10.1 cm (L) x 6.1cm (W) x 2.45cm (H)
Weight: 150 grams with battery
Pulse rate Adjustable, from 2 to 150Hz, 1Hz/step
Pulse Width: Adjustable from 50 to 300 micro sec 10 microsecond/step
Modes: Normal, Burst, Modulation, SD1, SD2
The unit can store 60 sets of operation records.