Ergolet Universal Comfort Sling With Head Support - Mesh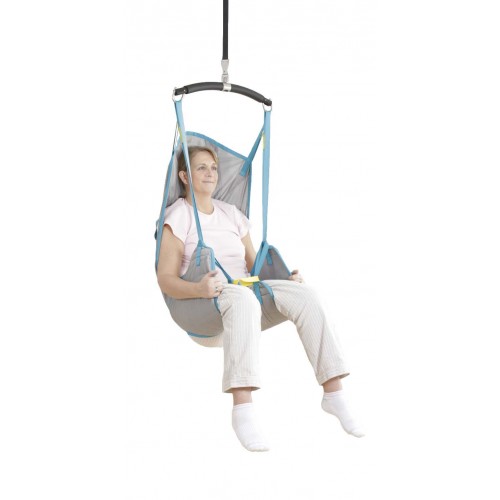 The Comfort Mesh sling has separate leg supporting straps, designed to cradle each leg individually from both sides of the leg, thereby providing a uniquely supportive and comfortable lift. The large material surface of the individual leg pieces means far less pressure on the user's legs. The special design makes it virtually impossible to fall out of the Comfort sling.
Key Features
Usability: Lifts of users with sufficient head control, but low tone/control of body and legs or who have an amputation, contractures, pain etc. or are obese. The sling is flexible and soft and the material enables the body to breathe. The sling dries fast and can be used in bathing situations.
Function: Supports complete body except head and neck. Leg support has a large comfortable surface which distributes the pressure on the entire thigh, because the leg is lifted from both sides. The design of the sling makes it impossible to fall out of the sling.

Lift to and from: Sitting/half-sitting to and from e.g. bed, wheelchair/bathing and shower chair.

Spreader bar compatibility: 2 point spreader bar
When To Use
The sling with head support is for users, who need extra support around the head.
The sling provides good support of the body and stabilizes the pelvis, supporting the upper body and giving the user a feeling of comfort and safety.
For users with a degree of physical disability or other special needs. Used for transfers from a sitting or lying position.
Sling in polyester mesh is suitable for bathing.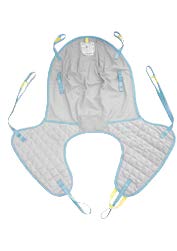 HMI
72865
84961
84962
84965
84963
84964
Sling type
Helsejl
Helsejl
Helsejl
Helsejl
Helsejl
Helsejl
Lift capacity
275 kg
275 kg
275 kg
275 kg
400 kg
275 kg
Material
Polyester mesh
Polyester mesh
Polyester mesh
Polyester mesh
Polyester mesh
Polyester mesh
Washing temperature
85°C
85°C
85°C
85°C
85°C
85°C
Drying temperature
55°C
55°C
55°C
55°C
55°C
55°C
Color
Gray / Blue
Gray / Blue
Gray / Blue
Gray / Blue
Gray / Blue
Gray / Blue
Specifications
Color(s)
Gray / Blue
Lift Capacity
275 / 400
Sling Type
Helsejl
Material
Polyester Mesh
Shipping Details
Availabillity
In Stock
Delivery Time
10 - 15 Working Days