Medisport Cryoultrasound - Cryotherapy + Ultrasound Device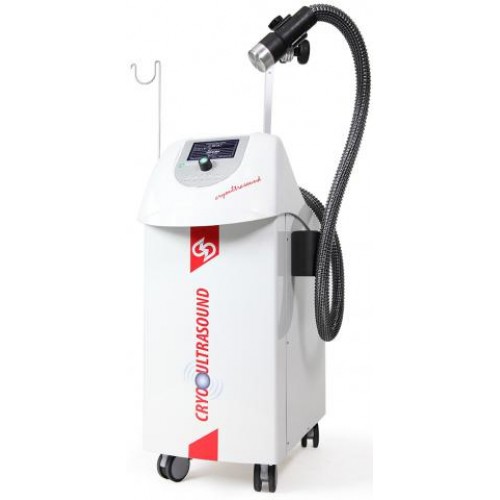 WHAT is Cryoultrasound™?
Cryoultrasound™ is an innovative electro-medical device that exploits the synergy of two therapeutic techniques combined together: Cryotherapy and Ultrasound therapy.
Cryoultrasound enhances the therapeutic effect to achieve maximum effectiveness.
The combined action of these two technologies has a strong analgesic and anti-inflammatory effect.
It is particularly effective for the treatment of muscular injuries and tendinopathy, even at acute, sub-acute or chronic stages.
WHY use Cryoultrasound™?
Treatments with Cryoultrasound™ accelerate the healing process by interrupting the "pain - spasm - inactivity" cycle.
The synergy between Ultrasound and Cryotherapy strengthens the therapeutic effects of the treatments, resulting in faster recovery times.
WHEN to use Cryoultrasound™?
It is especially recommended for the field of sports traumatology, orthopaedics traumatology and rheumatology. Cryoultrasound™ is effective in the rehabilitation of:
Contusive traumas

Stretched muscles

Muscle sprains of any degree

Tendinitis and Tendinosis
Technical Features:
Max ultrasound output power: 3 watt /cm²

Operating frequency: 1 mhz +/- 5%

Cryotherapy: adjustable up to -10 c°

Weight: 30 kg

Dimensions: 66 x 37.5 x 93 cm

Power: 650 watts

Transducer: piezoelectric ceramic

Display: digital display

Safety class: 1 type bf

CE n°: 0068
Fast Cooling
Thanks to the new volumetric expansion system that amplifies the performance of the device, the head can be cooled down very quickly and the temperature can be controlled in an optimum manner.
Intuitive Multilingual Display
Effective and reliable, Cryoultrasound™ is equipped with a convenient, multilingual, digital display from which a vast range of preset therapeutic protocols can be selected.
Easy to Move Around
Occupies a small amount of space and is convenient to use and functional thanks to practical wheels that facilitate its movement.