Hercusense ECG / EMG Electrode Drop-Shaped Ag/AgCl - 36 x 42mm (50 pcs)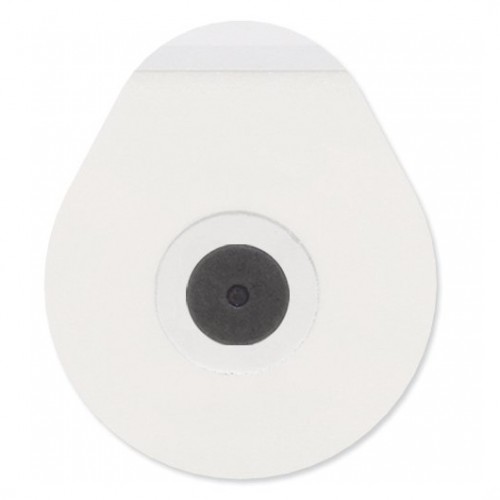 * This product is sold in packs of
50pcs
.
Size: 36 x 42mm

Shape: Teardrop

Easy to apply and secure self-adhesive, disposable electrode

1.5mm thick latex free PE foam w/ conductive Hydrogel

Button stud connector

Suitable for electrocardiogram, electromyogram

For all major muscle groups (ie. Biceps, Triceps, Quadriceps, Deltoids, Pectoral, Trapezius, etc.)
Each strip contains 4pcs

Packaged in 50pcs / pouch

MOQ: 50pcs

MDA Registered Device (No. GA4919519-31333)
Medical Devices Directive 93/42/CE Annex VIII Class I, ISO 13485: 2016 certified
ADVANTAGES:
BIOCOMPATIBLE - We use materials that are non-irritable, non-allergenic, has minimal sensitization and unwanted side effects that is soft and gentle on the skin.
EXCELLENT CONDUCTIVITY - We use superior quality silver chloride (Ag/Agcl) electrode core and medical conductive Hydrogel to produce excellent conductive properties.
ERGONOMIC AND COMFORTABLE - Our electrode design conforms to the highest ergonomic standards to emphasize the ease of use, comfort, and compactness for easy application on any skin surface for long periods of therapy.
STABLE PERFORMANCE - Thanks to the Hydrogel's unique properties, our electrodes can maintain firm contact with the skin for longer periods of time, thus minimizing signal interference, resulting in a much more stable electrode potential and clinical performance.
Composition:

CAUTION:
Our electrodes are designed for use on healthy skin only. Do not apply our electrodes to a skin area that is already swollen, inflamed, painful, itchy, rash, blistered, crusted, or damaged.


The skin area that will come in contact of the electrode pads should be clean and free of dirt, grime, excessive oil, and grease as they will hinder the electro-conductivity of the electrode and reduce the adhesive properties of the pads, causing it to detach from the skin prematurely. Overly dry skin will also affect the transmission of electrical signals. To ensure the stability and strength of the electrode pad's current and adhesiveness, wipe the intended skin area with isopropyl alcohol then lightly wet the same area with clean water before applying the electrode pads.


Our electrodes use viscose rayon fabric in its composition which may cause adverse allergic effects and skin reaction in a small percentage of people. Should any rashes, papules, or severe irritation on the skin area occur after applying our electrode pads, it is necessary to consider if viscose is allergenic to you and halt the use of our pads immediately to prevent further unwanted side effects.


There is a chance that a short circuit can occur when 2 electrodes are positioned too close together (ie. conductive gel pads are touching) during use. This will not cause the user to suffer an electrical jolt or shock as most modern quality physiotherapy devices have a failsafe switch built-in, but for high frequency electrodes it may cause the device to suffer damage to itself. For medium and low frequency electrodes, the short circuit will not damage the device but will instead flow back and render the current ineffective during the electrotherapy. To remedy this, please switch the device off and reposition the electrodes farther apart.
Specifications
Material
Latex free PE foam w/ conductive Hydrogel
Certification
Medical Devices Directive 93/42/CE Annex VIII Class I, ISO 13485: 2016
Connector
Button stud
Product Dimensions (cm)
3.6 x 4.2 x 0.15
Product Weight (kg)
0.005
Shipping Details
Availabillity
Yes
Delivery Time
5 - 10 Working Days
Shipping Dimension (cm)
80 x 30 x 25
Shipping Weight (kg)
1.5