Upper Extremity Workstation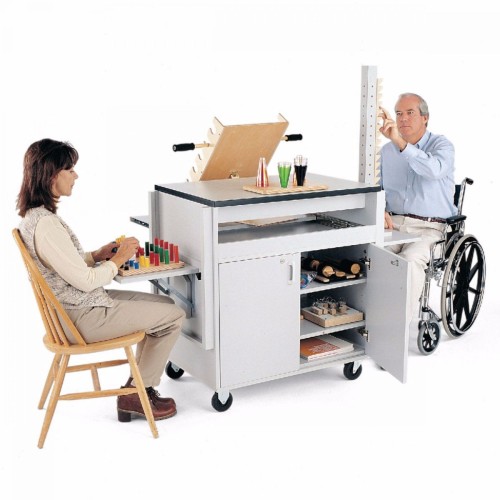 Upper Extremity Workstations feature a four-sided design that makes optimal used of limited therapy space, and encourages social interaction among clients, while permitting many activities to be performed sitting or standing.
Also included are two wheelchair-accessible, height- and angle-adjustable side shelves, a slide out rear shelf that is suitable for a seated client, and lockable doors for security.
The Upper Extremity Workstation have two pairs of height-adjustable interior shelves, a sturdy construction with durable Formica work surfaces, and smooth-rolling, locking casters for easy mobility.
The Workstation measures 38"L x 24"D x 39"H closed, and is latex free.
Bilateral Sander
Manipulation Board
Stacking Cones
Graded Pegboard
Shoulder Abduction-Ladder
Extended Your Reach Exerciser
Shoulder Exercise Ladder
Graded ROM Arc
EZ Exer-board
Two-Tiered Horizontal Bolt Board
Finger Extension Remedial Game
Specifications
Product Dimensions (cm)
96.5 x 61 x 99
Product Weight (kg)
273
Shipping Details
Availabillity
In Stock
Delivery Time
10 - 15 Working Days
Shipping Dimension (cm)
96.5 x 61 x 99
Shipping Weight (kg)
274