Meden Aqua Whirl WKS - Whirlpool Bath Tub for Lower Limbs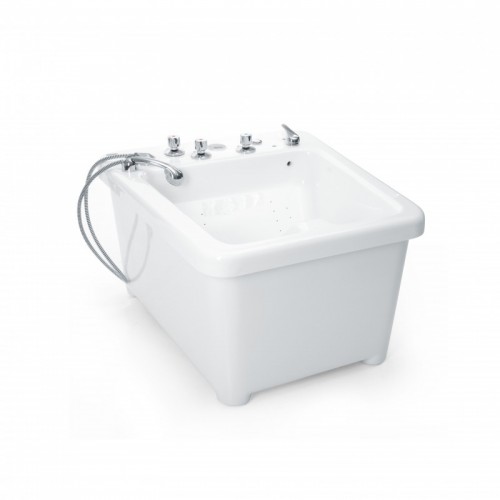 WKS - whirlpool bath for feet and shanks
WKS whirlpool tub is perfect for hydro massage of lower limbs in post-injury conditions, nervous system disorders or muscular and nervous system fatigue. Can be used professionally or at home, it also helps to achieve balance and relax during recovery after physical or mental stress. Whirl massage lessens swelling, stimulates circulation and reduces pain and muscle tension.
Temperature and angle of the strems can be regulated which allows for delicate but effective hydro massage adjusted to your needs.
Product features:
38 aeration nozzles

capacity of 65 l

"dry-run" pump protection

descaling system

temperature indicator

automatic filling

warm shower

ergonomic tub shape

smooth profiled treatment chamber

control panel

chair

Technical data:
Capacity: 65 l

Dimensions: 62 x 90 x 98 cm

No of nozzles: 38

Power consumption: 0,9 kW

Supply voltage: 230 V / 50 Hz

Weight:

45 kg

Class of protection: I, B
Standard Accessories:
This product has no size variants.