Kettler Aerobic Dumbbell 1kg (Pair) Weights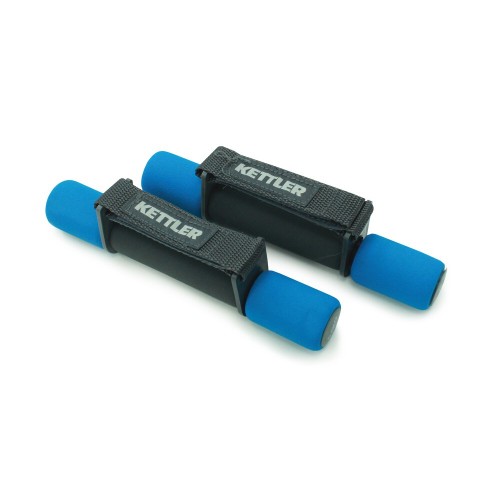 Recognising and setting trends. For more than 60 years, Kettler has shaped the sports and leisure market with cutting-edge product solutions.
Be it fitness equipment, bicycles, toy vehicles or leisure and garden furniture – numerous product awards and No. 1 rankings in tests have made the 2010, for example, the company was awarded the title "Most Innovative Brand" at the PLUS X AWARDS, Europe's largest competition for technology, sport and lifestyle. KETTLER brand the epitome of innovative drive and quality.

PRODUCT DETAILS:

The Aerobic Dumbbell is ideal for strength and stamina training. They feature soft handles and hand straps ensuring comfort and secure grip, making them ideal for aerobic style workouts. Because of the easy grip design they are ideal for people looking to add resistance to their normal workout routine to build strength or for exercises such as shadow boxing.

BENEFITS:

Using aerobic exercise to lose weight decrease your risk of diseases and conditions such as diabetes, coronary heart disease, stroke, lower back pain and high blood pressure. This type of weight loss workout not only burns calories, but improves muscle strength, muscular endurance and heart health.

Efficient addition to any light aerobic exercise
Soft neoprene covered dumbbell is comfortable to hold
Adjustable hand strap holds weight in place while exercising without needing a tight grip.
Comfortable, secure, web hand strap eliminates over-gripping and hand fatigue
Development, maintenance and increase of body fitness. Our training accessories offer training possibilities for strength and endurerance training.
The Aerobic Dumb-bells can be used for faster movements as they have a wrist loop to ensure they stay in place.

Specifications
Color(s)
Black, Blue
Product Dimensions (cm)
Product Weight (kg)
1.0
Shipping Details
Availabillity
In Stock
Delivery Time
10 - 15 Working Days
Shipping Dimension (cm)
Shipping Weight (kg)
1.2