Herculife Portable 1MHz Ultrasound Therapy Device For Tissue Repair and Increased Blood Circulation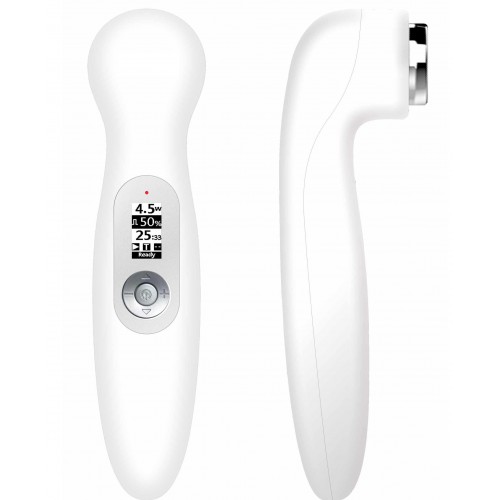 Pulsed sound waves travel deep into the tissue and induce vasodilation, which helps increase blood flow to the treated area and is found to help relieve pain and reduce muscle spasms, joint contracture relief. Equipped with a head warming feature on an ergonomically designed sound head for increased patient comfort.
Indications
Treatment of Pain
Muscle Spasm
Joint Contracture Relief
Limb Dyskinesia
Soft Tissue Contusion
Features
OLED display design, intuitive and clear
Five-way key setting, easy to operate
Small, ergonomic design that is easy to hold and portable
Freely adjustable treatment times, 1-30 minutes
Continuous / Pulsed modes
Head warming feature pre-heats up to 95°F the sound head applicator for increased patient comfort.
Technical Specifications
Acoustic Frequency: 1.0MHz±10%
Pulse frequency rate: 100Hz±10%
Waveform: Continuous / Pulsed
Effective radiation area: 5cm2±10%
Duty cycle: 100%,90%,80%,70%,60%,50%,40%,30%,20%,10%
Treatment Time: Freely adjustable, 30 minutes
Max. Effective intensity: Max 1.6 W/cm2
Preheat time: Max 2 minutes
Specifications
Color(s)
White
Acoustic Frequency
Pulse Frequency Rate
Continuous / Pulsed
5cm²±10%
Duty Cycle
Treatment Time:
Max 1.6 W/cm2
Max 2 Minutes
Max. Effective intensity
Preheat Time
Waveform
Effective Radiation Area
Product Dimensions (cm)
12.6 x 12.6 x 4.3
Product Weight (kg)
0.5
Warranty
2 Years
Shipping Details
Availabillity
In Stock
Delivery Time
10 - 15 Working Days
Shipping Dimension (cm)
12.6 x 12.6 x 4.3
Shipping Weight (kg)
0.6